Sync 2.x enables you to synchronize data across your own devices as well as share and synchronize folders with other people
Depending on which of the two tasks you'd like to accomplish, there is a special workflow: A) though Linking Devices; and B) sharing the folder manually via key/link/QR code
A) If you have several devices, for example, a desktop, a laptop and a mobile phone and would like to have quick access to the same folders on all of these devices, the most reasonable thing for you would be to link them all together via the new mechanism known as 'My Devices', a Pro feature.
When you've linked your devices to one identity, each and every folder added to Sync on one device will automatically be available on all the other devices. Just add a folder on the laptop - and shortly it'll appear on the desktop and your mobile phone/tablet. You don't have to take any action other than just adding a folder to Sync on one of the devices, in other words, no sending links or scanning QR codes is required.
B) Valid for Sync Free: If you'd like to share and sync some data with another person who has a separate Sync identity
, you should do the following:
STEP 1. On Computer 1, add a new folder to Sync. There are several ways how you can do that:
click the "+" button in the upper left-hand corner
add a folder through the contextual menu of your file browser (Windows and Mac)
drag and drop the folder into the Sync window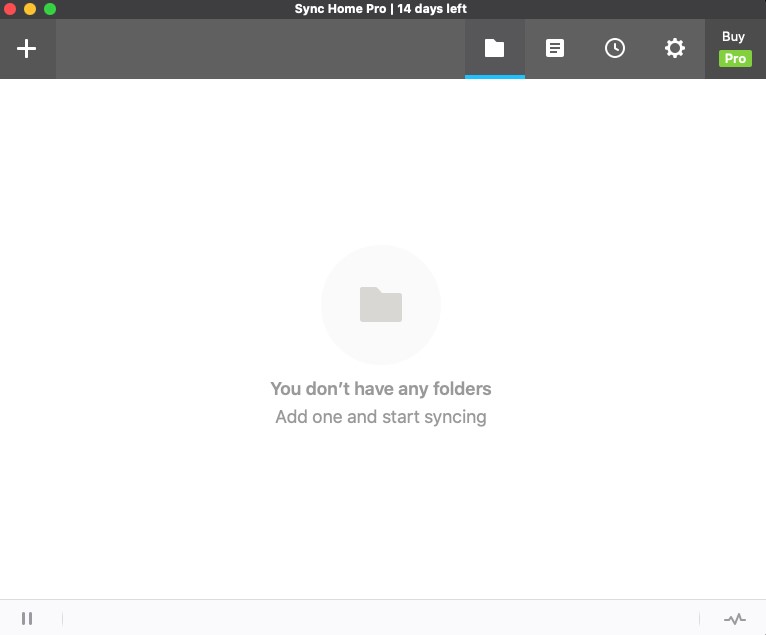 STEP 2. If you have clicked "+" in the window above, choose the type of folder: Standard, Advanced or Encrypted folder, as well as share files. Advanced folder and file sharing are available only in Pro licenses version.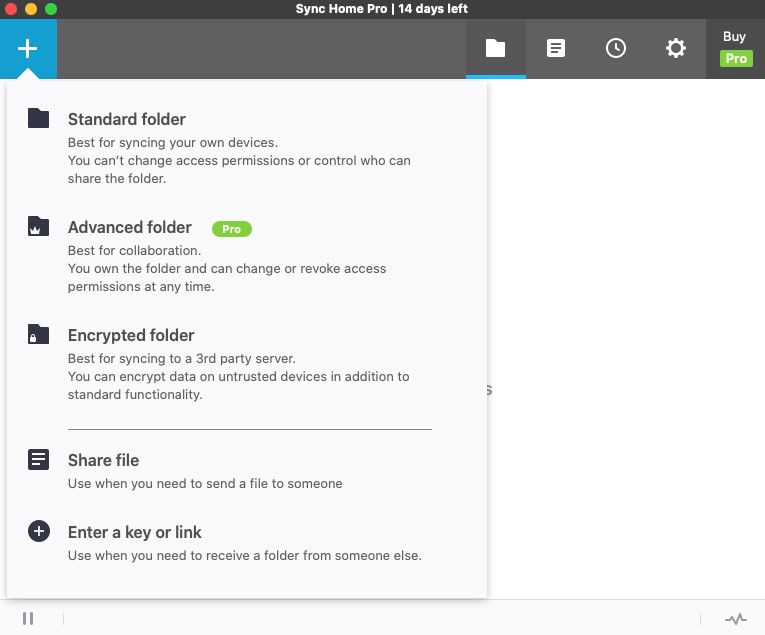 For more information regarding Standard and Advanced folders, click here. To learn about Encrypted folders and how to use them, please refer to this article. File sharing is explained here.
When the folder type is picked, Sync will show a Share window where you'll be able to choose some additional sharing options. Note that depending on the type of folder you've chosen - Standard or Advanced - Sync will show a different Share screen.
STANDARD folders
Sync Share screen features three tabs corresponding to the three ways of sharing a folder with another person: by link, key or QR code.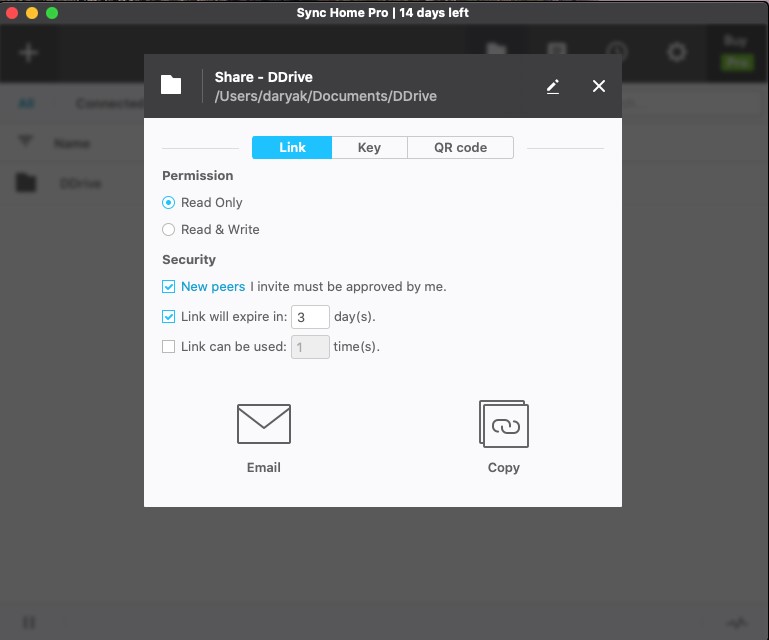 ADVANCED folders
Sync Share screen features two tabs - Link and QR code: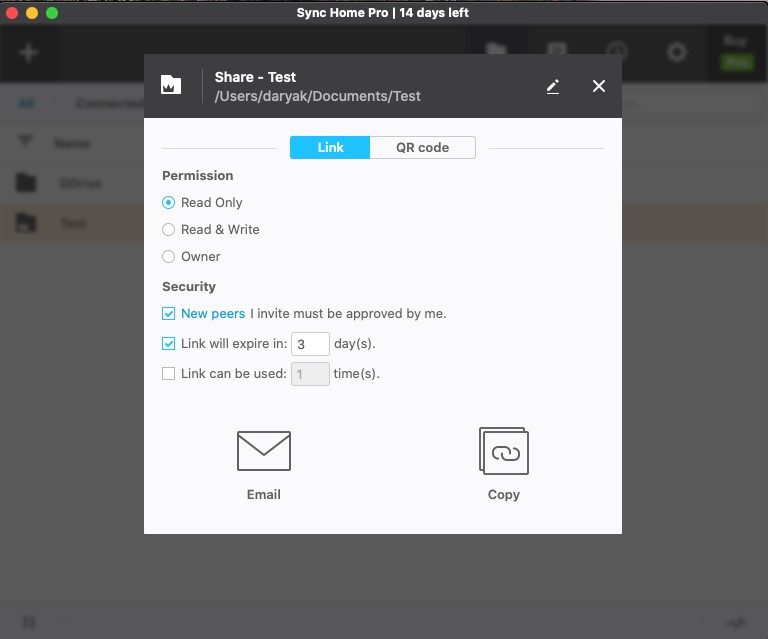 At-a-glance comparison:
Standard folder Share window features one extra tab - Key, which lets you copy a sharing key (to be pasted into the Sync manual connection box on another device).

The Permission section of Standard folders offers only two permissions: Read Only and Read & Write. All peers act as owners, that is, whether a peer has a RO or R&W key, that peer can continue sharing the folder with others.

Advanced folders come with three permissions: Read Only, Read & Write and Owner. Sharing can be established through Link or QR code.

Standard and Advanced folders have the same security options.
At the foot of the screen you can see the possible ways of sharing a folder with another person:
'Email' will automatically open the default mail client and paste the link into the body of the letter.
'Copy' will copy the link to clipboard. You can then paste the link into your preferred messenger, chat dialog, e-mail, etc.
The QR code tab will display a QR code which can be scanned with a mobile device.
When another person receives the link, all they have to do is just click on it.
If Sync is accessed via WebUI, the link cannot be added to Sync by clicking or opening in the browser. Use manual connection instead.
Manual connection is the altenative way for adding a share by link -- click the "+" menu, pick "Enter the key or link" and paste the link into the opened manual connection box. Once that is done, the default browser on their computer will open a page on the Resilio website. If that is their first experience with Sync, they will be asked if Sync is already installed: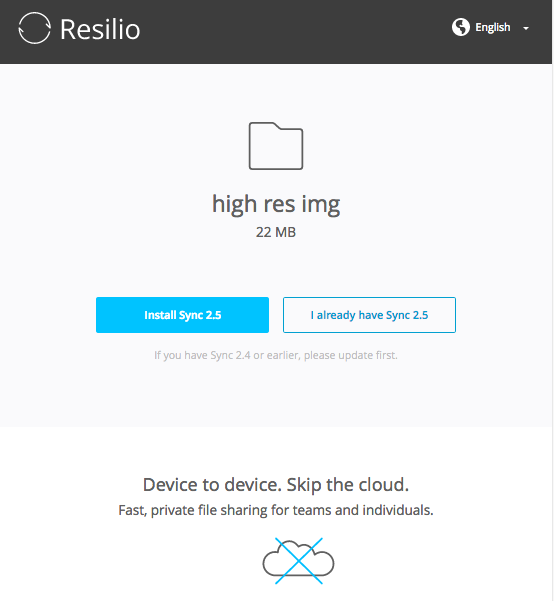 Additionally, your default browser may ask permission to run an external application (Sync). Select the 'Remember my choice...' checkbox and click 'Launch application'.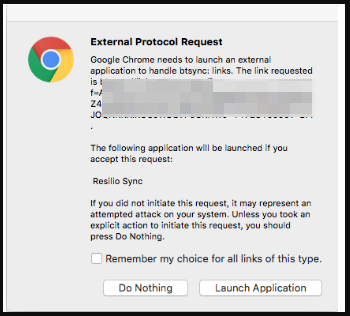 To add the folder to Sync on Computer 2, click 'Connect':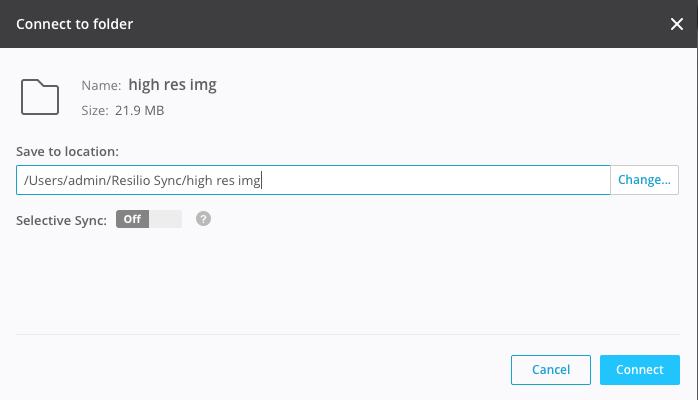 When you first connect a folder on Computer 2, you'll see a "Selective Sync" toggle in the Connect to folder dialog.
If you leave "Selective Sync" OFF, this device will immediately start downloading ALL the content in the folder (including the full contents of any subfolders and nested folders).

If you turn it ON, Sync will only receive

placeholder

information, which you can use to sync the information later. For more info, refer to

this

article.
Once Computer 2 adds the shared folder, an approval request will be sent to Computer 1. Once Computer1 approves connection, the folder will be added and synchronization will start. Devices, linked to your identity are approved of by default.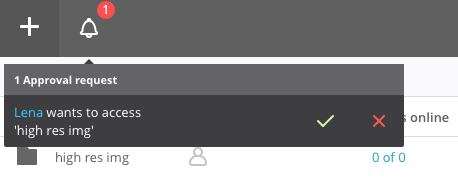 To make extra sure you are about to share your data with the right person, you can click on the identity (name) of the person who sent an approval request. This will show the details. Here you can review the person's name, their IP address, fingerprint and approval request receipt date. Additionally, you can change permission type issued while sharing link was being sent.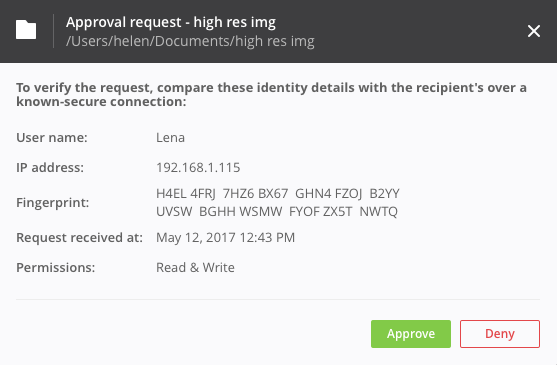 *** To connect a folder manually, click the + button > enter key or link. Then paste the link into the manual connection box: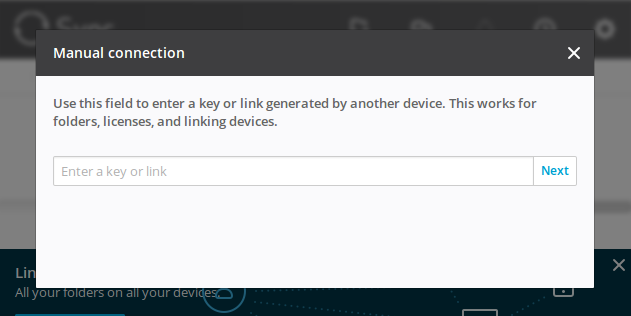 Tip:While syncing/updating files, Sync relies on the internal clock of your device, therefore, it's crucial that the time settings on all connected peers are correct. Failure to maintain correct time & timezone may result in
Excessive time difference error
.