Sync 2.x permission types:
With Sync 2.x, you are able to make on-the-fly modifications to sharing permissions granted to others. If you have already shared a folder with somebody, you are still able to change how the folder is accessed by them: whether they have Owner, Read-Write or Read-only access. This option is only available in PRO version and for Advanced folders.
The other important option is that you can control who may share the folders you create with the Owner permission level. Only users who have Owner permission can invite new users to the folder. Owners also have full Read & Write permission.
Read Only: peers will only be able to read the data. If they modify the files or add new ones, 1) these changes won't be propagated to other peers; 2) Further synchronization of the files changed by a Read Only peer will be suspended for this peer. (The Read Only user can change this behavior with the "Overwrite any changed files" option in the Folder Preferences window.)
Read & Write: these peers will be able to add new files and modify or remove the existing ones. All the changes will be synchronized to your connected devices. By default, changed files are backed up in the archive.
Owner: on top of all the Read & Write permission benefits, the peer is granted the right to share the folder with other peers as well as revoke access rights from other peers.
For your convenience, Sync 2.x makes use of different folder symbols to indicate different permission types. Learn more
When you add a new folder, the Share window will immediately offer two types of permission - Read Only, Read & Write - for Standard folders: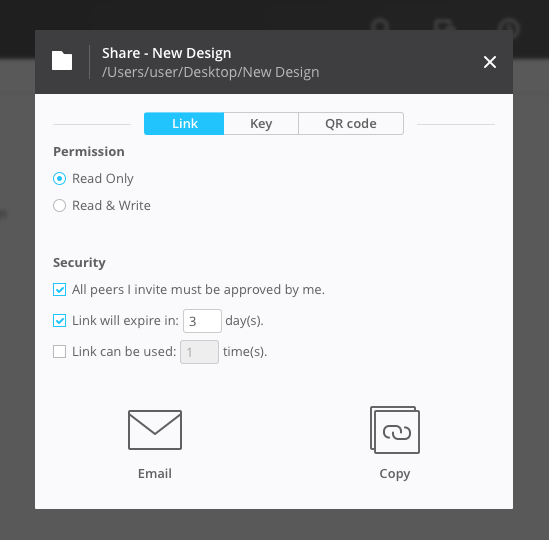 Three types of permission - Read Only, Read & Write and Owner - for Advanced folders: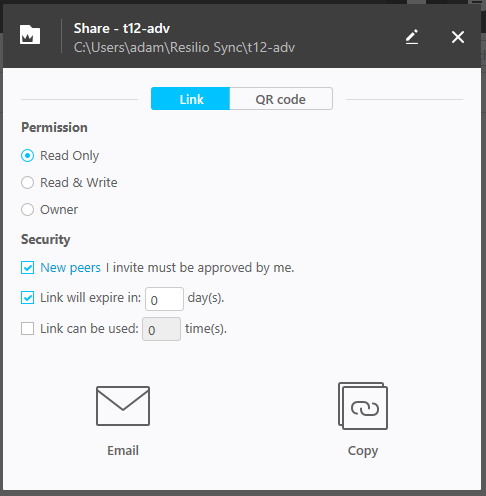 If a folder is already shared, you can still change permissions without disrupting synchronization process.
Pick the folder, then click on its peer list: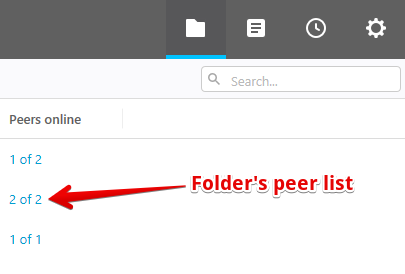 Choose the permissions you wish to give to your peers (different users can receive different permissions):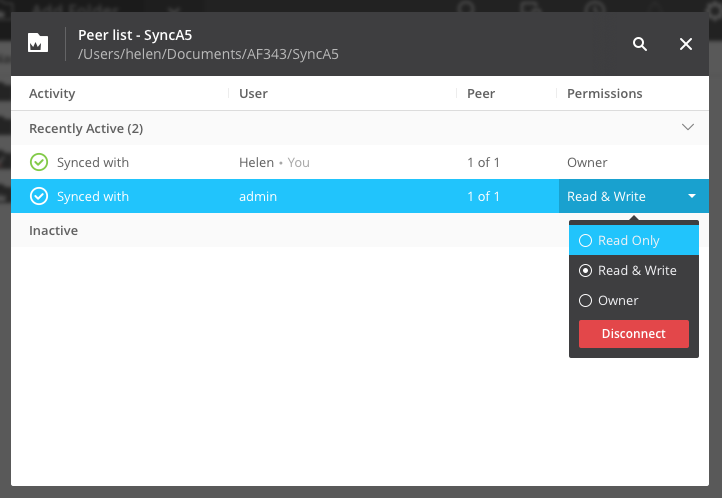 If you hit 'Disconnect', Sync will revoke access to the folder from the selected peer, and future updates for him/her will be suspended. All the files that have been synchronized so far will remain in the folder.