Starting with Resilio Sync v2.7.0, it's possible to share a folder locally - sync files from one location to some others on same computer.
It's supported only for desktop versions of Sync.
This is a Pro feature and available only for Sync Business, Sync Home Pro and Sync Family Pro. If Trial period or license expire, or if license is removed, local shares stop working.
To sync a share locally, open its preferences or right-click on it in Sync and select "Sync local folders".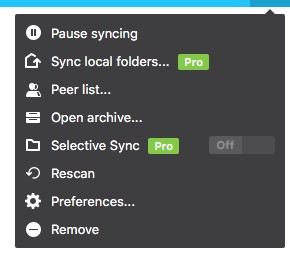 Choose the access permissions for the local share, path and enable, if necessary, Selective Sync. USB and network paths are supported.
The local share will only be connected to one peer - self - and will only pull data from the parenting folder, or upload data to it. Local shares do not sync with remote peers directly.
Don't create syncing loops!
When selecting path for local share, DO NOT use a subdirectory or any of parent folders of the source share

Once configured, the local share will appear as attached to the "source" share.


All types of shares - Advanced, Standard, Encrypted - can be shared locally, with some peculiarities:
- for Advanced folder only Owner can share it.
- there's no way to give local share "Owner" permissions.
- for Encrypted folder if the peer has only "encrypted" key, it cannot be shared locally.
Only the permissions level that source folder has can be passed down to the local share. I.e. if the source share has Read-Only permissions, it can be shared only with "Read-only" permissions locally. It's not possible to share Owner access with a local share.
For Advanced shares it's also not possible to change access level for local share through user management. To change permissions it's necessary to remove the local share from Sync and re-share again.
On the other hand, if remote Owner changes device's access to the source folder, the local share will lower down the access as well. For example: both source and local shares had access "Read-Write" in an Advanced share. Remote Owner changes the access for this device from Read-Write to Read-Only for source share. Local share will also change its access from Read-Write to Read-Only.
It obeys the default Sync's rules for Archive and IgnoreList. But it does not use standard peer discovery mechanism of tracker, relay or LAN discovery - these options are not available in the local share's preferences.
Local share is not propagated to the devices linked with one identity, i.e. it only remains on the device where it's deliberately configured. If the source folder is disconnected and/or removed from Sync, the local share is also removed from Sync. Reconnecting the source folder back again does not automatically reconnect the local share and the latter needs to be reconnected again manually.
It's not possible to share a 'local' folder locally again. But it's possible to share the 'parent' folder locally again with some other folder. You can setup the source folder to be shared with several local folders. The number of peers will grow accordingly.

Selective Sync on source share and all its local copies are not dependable on each other. Combinations are possible. Note, that local shares only get data from the source share so if the latter has only placeholders, local shares won't have the file either.
If license expired or is removed from Sync, the local share becomes unavailable and ceases syncing