Here's an overview of Sync UI on iOS devices.
1. Opens Options (see below).
2. Expands to submenus: 
 - Share file (read more)
 - Create folder (adds a new share);
 - Camera backup (creates backup share);
 - Scan QR code (opens camera to scan the QR and connect to another share or device);
 - Enter key (lets you enter a share key, for cases when QR code is not available);
3. One of the sync shares and its inside expanded. Folder Downloads keeps files downloaded file file sharing feature. 
4. Camera Backup. Note that it's not listed here by default, it needs to be enabled though '+' button. 
5. File or subfolder details (see below).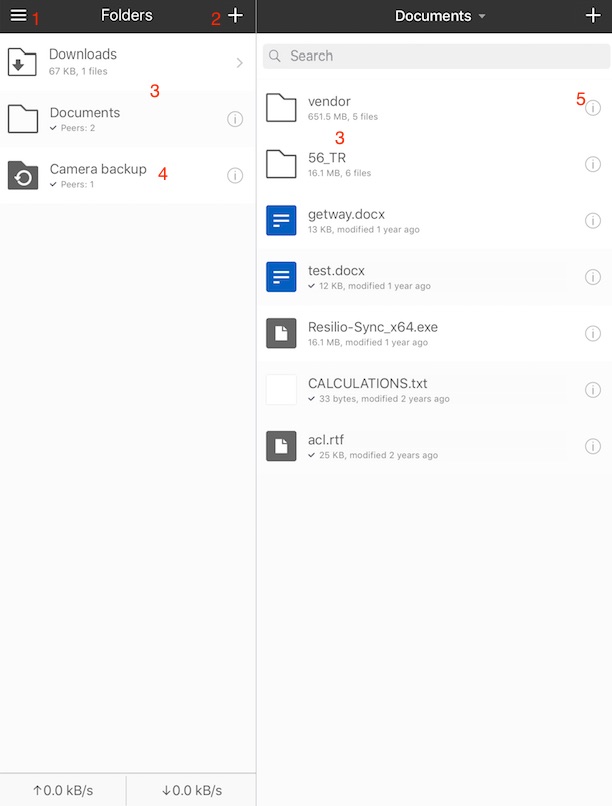 Options: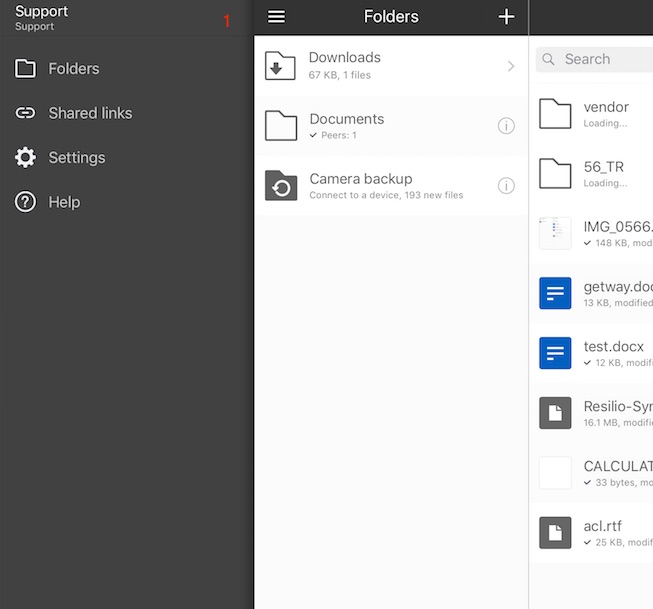 Support: opens identity details - username, fingerprint and device name
Folders: opens folders view
Shared links: opens the list of single file transfers, both uploaded and downloaded (read more)
Setting: opens general Sync settings. See here for details
Help: opens Sync help Center, community forum or contact support form.  
 
 Share details:

Documents: share name, and the pencil icon lets you rename it. 
Selective sync: enables/disables selective sync for this share 
Share: lets you share this folder with other peers 
Pause: pauses synchronization
Clear synced files: turns all synced files on this device into placeholders. Available only of Selective Sync is ON.
Peers: shows the peers list
Allowed network: network settings for this particular share (see here for more details)
Remove from this device: disconnects the folder from Sync only on this iOS device. All files from it are removed from this device, but preserved on others.
Clear: . Available only  with Selective Sync ON
Details: displays information about the folder such as permission type,  size, number of synced files
Advanced preferences: 
Use Archive: disables/enables file archive, through which renamed files are processed. It helps to avoid re-syncing of renamed files.
Overwrite any changed files: option to re-download the files from the source peer if this file gets changed on the mobile. This option is available for Read-only shares. Detailed description on what this option does see here.

Use relay server

: enables/disables relay server. Relay servers are used when peers cannot connect directly to each other.
Use tracker server: enabled/disables tracker server. Tracker server is necessary for peer discovery over WAN.
Search LAN: sets Sync to use broadcast packets in LAN for peer discovery. For successful discovery router shall also have broadcasts enabled. 
Predefined hosts: add a predefined host. Put IP and listening port of a remote peer. Phone will be connecting to that peer directly. Can be used with relay, tracker and  search LAN options being OFF.