Sync's camera backup feature ensures automatic backup of your mobile photos to a desktop, NAS, or other high-storage device. When camera backup is enabled, you can delete pictures from your mobile device after they have been synced and copies will remain on your device hosting backup storage. This means all your photos and videos from your phone or tablet will be safely backed up and viewable across all your devices. Camera backup is available on iOS, Android, Kindle, and Windows Phone builds of Sync.
To enable camera backup:
- on iOS device, tap the backup toggle in the folder view of your Sync mobile app.

- on Android device, tap '+' at the foot of the screen, then hit 'Add Backup' and choose 'ADD CAMERA BACKUP'.
- on WinPhone device, tap the backup tile and hit the 

 button to enable backup.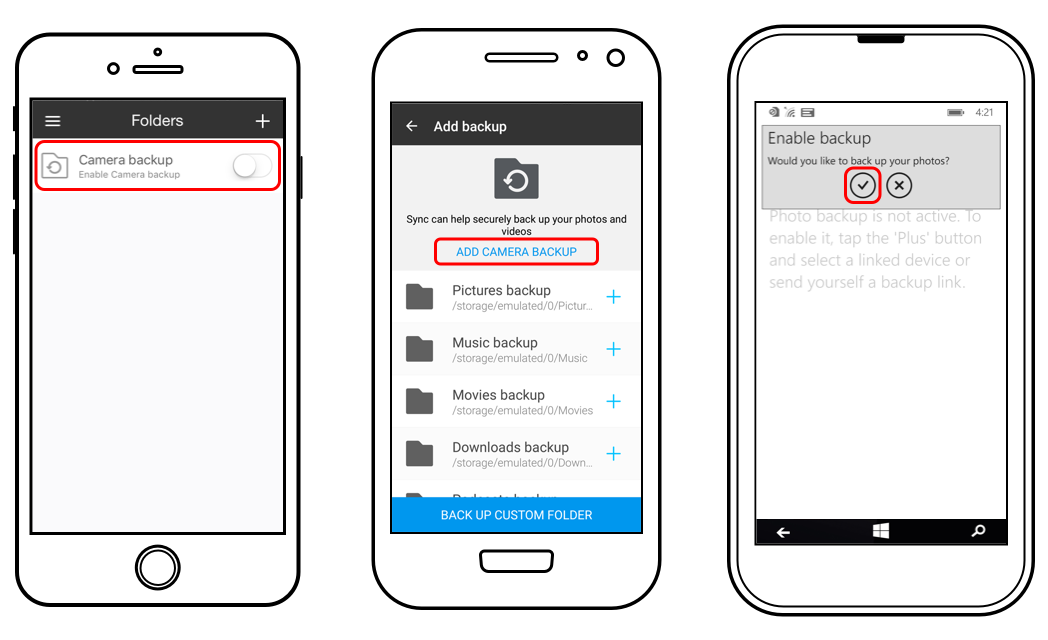 If your mobile phone isn't linked to any device yet, you'll immediately be prompted to e-mail the backup link or copy it to clipboard on iOS and Android devices. When the link is delivered to a desktop computer, it should be clicked (in this case Sync will create a backup folder automatically) or pasted into the Manual Connection dialog (Options -> Manual connection). As for WinPhone devices, at first the sharing link will be opened and then using the 

 option you can choose from the available ways of sharing.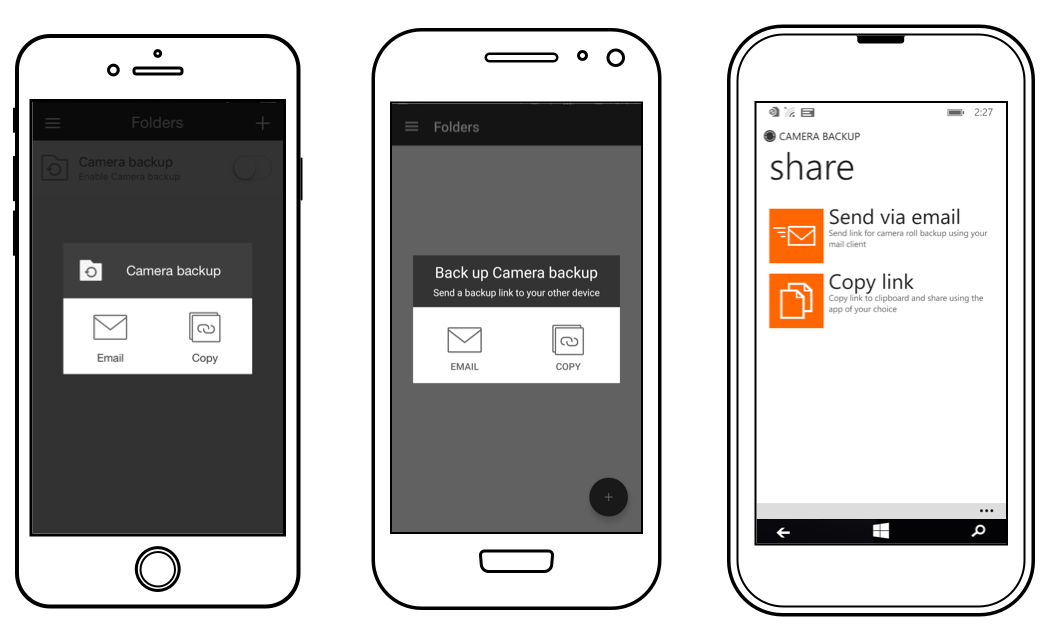 Sharing backup

If your mobile phone or tablet is already linked to another device, you'll see it on the device list: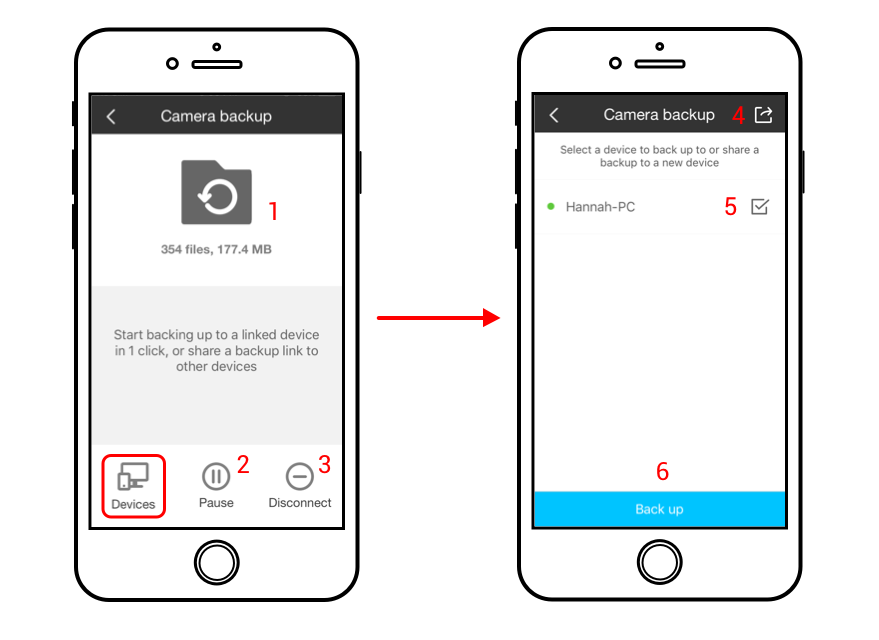 iOS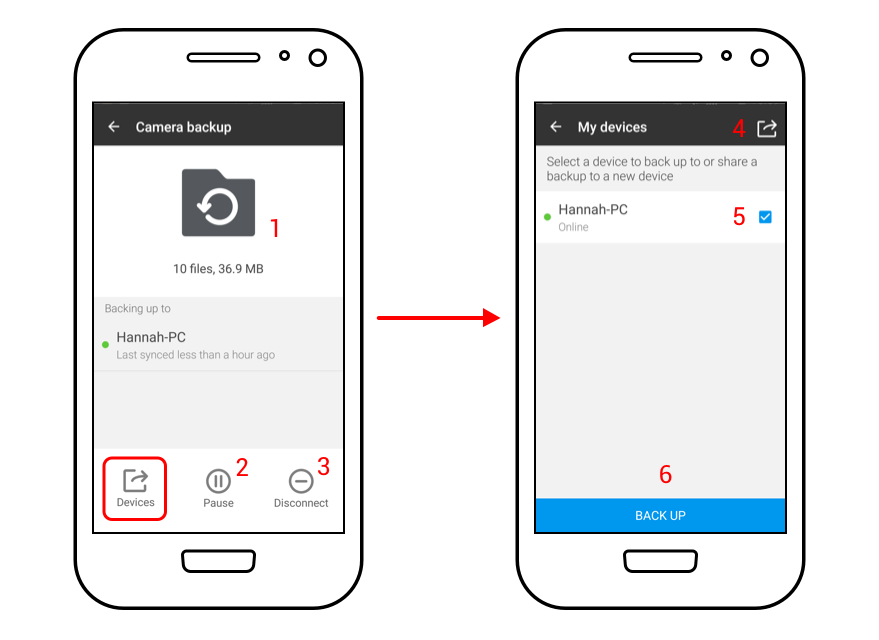 Android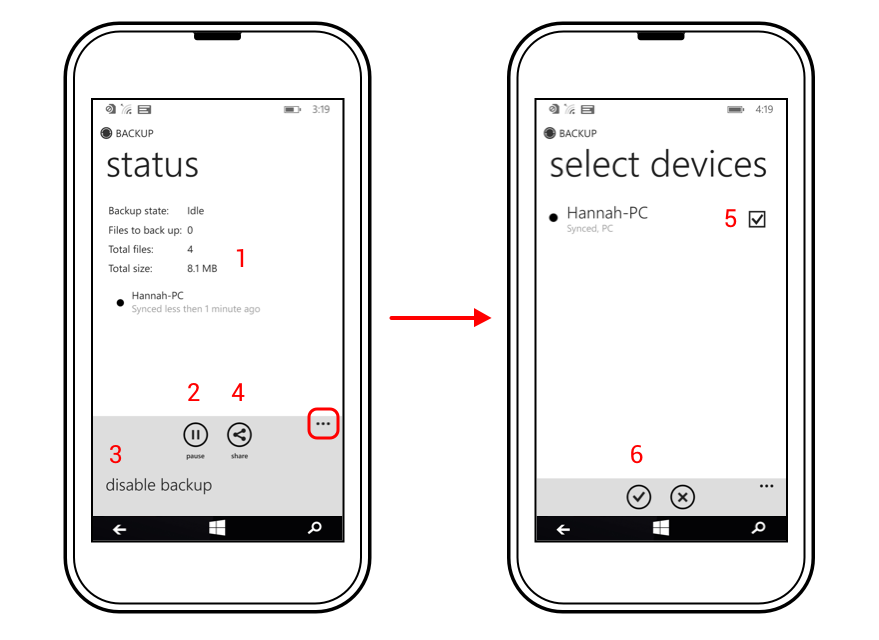 WinPhone
Tap 'Devices' in order to view the list of all devices available for storing backed up pictures.
To choose a device, select the appropriate checkbox.
Overview
Number and overall size of files to be backed up.
Pauses/resumes backup.
Stops file transfer and disconnects backup folder from other devices. All the pictures present on the mobile and the desktop at the moment of disconnection will remain on these devices (Sync will NOT delete any pictures from the folders even if connection is terminated).
Opens Sharing backup screen (see above) and lets you send a backup link to other devices.
The list of linked devices. If you have several devices linked to one identity, all of them will be listed here. To select a device, tap the appropriate checkbox.
Returns to the backup screen.
IMPORTANT: On Android-powered devices Sync can work and transfer data in the background.
Windows Phone and iOS operating systems do not support this feature, therefore to get your files backed up in real-time, make sure Sync is opened. 
Once backup is initiated, Sync will create a backup folder in the BitTorrent Sync directory on the desktop computer chosen as a backup storage.
Depending on the mobile device you use, the default name of the backup folder on your desktop is going to be one of the following:
DCIM (Android)
'Device name' Camera Backup (iOS)
Camera Backup (Windows Phone)
You can access this folder via the file browser: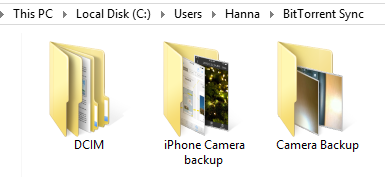 or by clicking on the folder name in Sync (not available on Linux).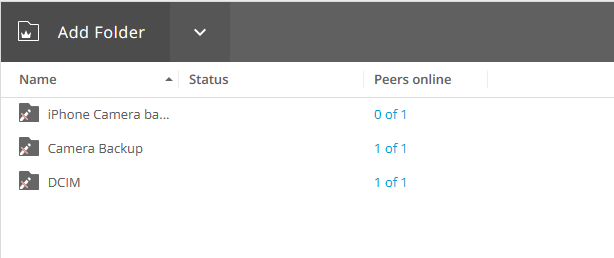 Since backup folders are for storage purposes only and do not require advanced functionality, Sync creates 1.4 folders with Read Only keys for backup use.