If you have a Pro License you've probably wanted to learn how to download it again, buy more seats or update card info. You can do that via License Management Console (here).
Also, you have Sync Business license, you can open "Licenses" and click "Buy additional seats" option. It will take you to login page.
License Management Console comprises all the licenses purchased with a given e-mail address.
Registering in Console
Before starting to use License management console, you need to register there first.

Click "Reset password", provide the e-mail address or username. Email address - is the one you've used to purchase the license. Username - if you already registered there but forgot password.
Proceed with instructions from password reset mail.
Using Console
Once you login, you'll see the list of your license purchases associated with the e-mail address given. The page shows all licenses - Home, Business, Family - bought by you. These are the different licenses, separate purchases. For each of the license you can click on "Actions" icon, which will show all available options. Most of them are self-explanatory.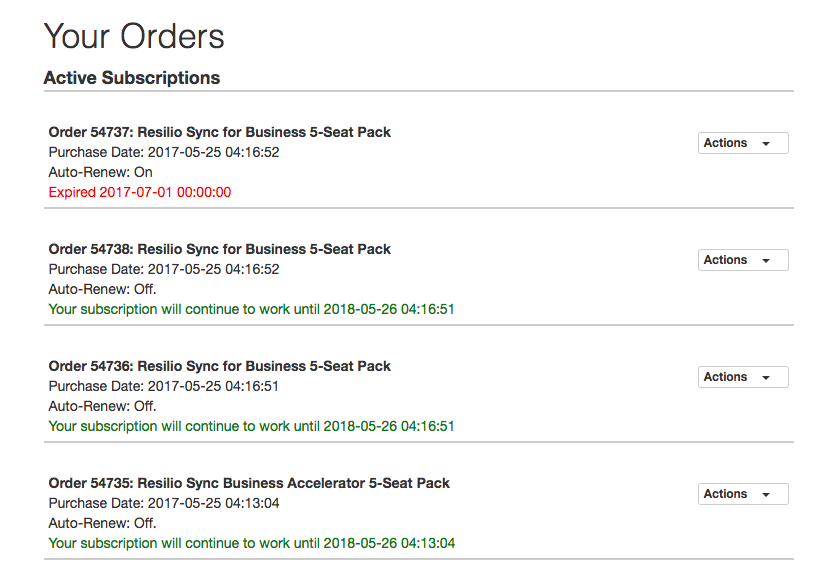 Buy more seats and add features:
Select the number of seats from the dropdown menu, one can add up to 70 seat, the sum is calculated automatically. Reducing number of seats is not supported.
Here one can also add seats with Server OS support. The number of seats with these features shall not be bigger than the total number of seats in the license.
New Licensing scheme
For licenses purchased after April 4, 2020 Server addon is only available for licenses with 20 seats or more. It's enabled automatically if update the license seats.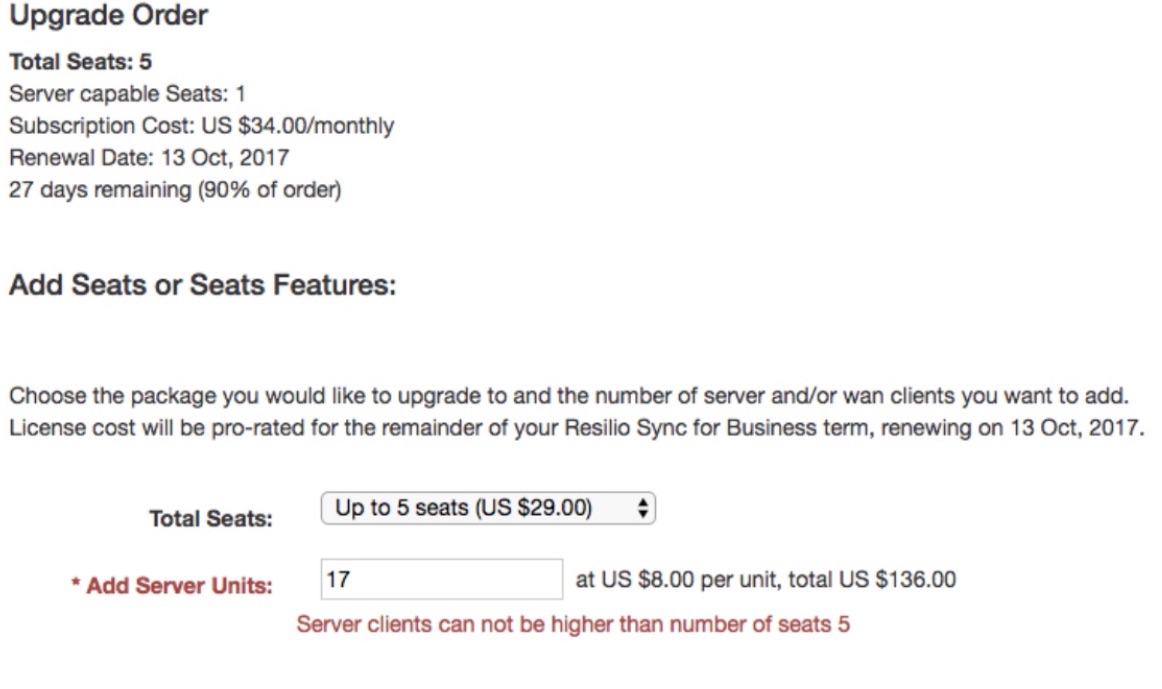 Cancel Subscription:
here you can cancel the current subscription. If this option is enabled, your license will be updated automatically after expiration and the credit card on file will be charged. If this option is disabled, license will just expire, you can renew it manually later via "Renew now" option. Re-enabling subscription is done through "Activate" menu.
Upgrade to Home Family:
available for Sync Home Pro license. Home license is good for personal use, while Home Family License can be used by up to 5 family members. After upgrade download the new license key and give it to all your family members for them to us it on their Sync.
Downgrading from Family to Home is not possible.
Edit Order Info:
change your name and purchase email on file. This is the e-mail where license renewal, password reset and other mails will go.

Update payment info:
change your card information. You might need to update payment info, if the current credit card on file got expired or is to be replaced with another.
Refund VAT:
use this option to receive refund for VAT, included into the total charge. Applies to Business licenses that have VAT number provided.

Renew now:
available for Business licenses. in case if automatic renewal failed, update payment info and use this option to renew the license. Download the updated license key.

Download the License:
in case you've lost email with license you can download it right from the License Management Console.
Invoice:
if you need the invoice for the purchase, update the billing address. VAT will be calculated automatically depending on the country from which the purchase was made. Invoice is previewed and downloaded as a pdf file.