Sync 2.5 introduced two editions - Home and Business - for personal home and commercial office usage accordingly. The major difference between these two is the set of features available and licensing (see below). This means that both these editions still offer the same privacy (your files are stored only on your devices and are not exposed to a third party), security (all files are transferred though encrypted channel) and performance.
The current edition being used can be seen on Sync app header.
Sync Home can be used as a Free app, as well as Pro licensed app which gives some pro features. Sync Home Pro license is a non-subscription one-time payment license. It can be used by one person on all person's devices. Before making the license purchase you can enable 14-days' Pro Trial period in Sync preferences -> License.
Sync Home Pro for Family is basically the same Sync Home Pro license key, which lets you save on bulk purchase. This license plan fits the case when Sync is being used by up to 5 family members each of whom can just use the purchased license key. Read more about it here.
Sync Business requires subscription type of license. It has 14-days Trial period enabled by default upon installation. Once Trial expires, license is to be applied (what happens when trial expires?).
See instructions on applying and using license key here.
Here's the chart comparing the features: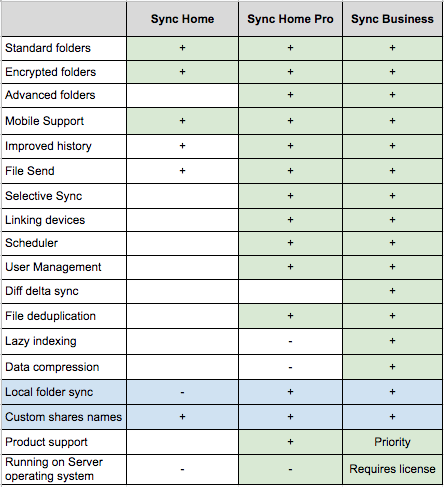 Most features have been here for quite a time, those on blue cells are introduced in Sync 2.7.
Folder types:
Advanced - coming with new, advanced functionality, and Standard - offering simplified functionality, Encrypted - keep the files encrypted on an untrusted storage. Advanced folders make use of X.509 digital certificate, which ensures that such operations as adding peers, sharing folders, revoking access to folders, etc are done in a secure way. SSL is used to provide security for peer data exchange over network. See this article for more detail about Advanced vs Standard, and here for more details about Encrypted folders.
Mobile support:
All Sync editions can run on mobile devices. Mobile devices don't differentiate between these Sync editions.
Improved history:
Sync now shows extended events in history, allowing to filter them by warnings, errors, info and general activity.
Selective Sync:
This option allows to selectively download only those files that you currently need and clear them off from device when they're no longer needed, it helps to save storage on a device. Learn more...
Linking Devices:
You can link all your devices with one identity. It eases folder sharing - folders appear on all linked devices automatically without having to do it manually. Learn more...
Scheduler:
This is a weekly schedule that gives some flexibility in limiting the bandwidth on certain days and hours. Learn more...
User Management:
Available only in Advanced folders. This option allows to remotely change other peers' access to the share, as well as disconnect them from it. Lean more...
File Send:
This is a file sharing option. Files can be shared either via a link or QR code. Sync Home Pro can set link expiration date up to 7 days, Sync Business can set link to never expire.
Diff delta sync:
Sync is smart enough to detect that a piece of file has changed and re-sync only this one instead of the whole file. But diff delta sync option takes it further - if file update caused all other pieces to shift (e.g. new data was added to the beginning of the file), Sync will still retransfer only the changed piece and insert it in the correct place.
File deduplication:
This is transfer optimization feature that also reduces excessive traffic. When downloading a file, Sync first rechecks the folder tree of other shares. If the same file is found there, it's not synced from remote peers, but instead copied from the local directory.
Lazy Indexing
Initial indexing of files in a newly created share goes in parallel with files upload. It means one does not need to wait till all files are indexed before they get shared.
Data Compression
Allows to compress the data as it's being send over the network tunnel. This helps to greatly reduce the payload size and save some bandwidth.
Local folder sync
Introduced in v2.7.0, allows to synchronize two folders connected to same computer. Read more about it here.
Custom names for shares
Introduced in v 2.7.0 and makes it possible to set a name for the share that will be different from the name of folder on file system. More info here.
Running on a Server:
For Sync Home Free or Pro: server operating system means all Windows Servers. Installation on these is not supported at all.
For Sync Business: server operating system means all Windows Server group and Linux and NAS with non-arm based CPU. Sync Business requires license which can be purchased from our site - Server support is available for packs with 20 seats and more.
If you've already bought Sync Business and realised that you need to run it on a server OS, update your license to support servers in License Management Console.