When starting Sync for the first time, you're suggested to create an identity and give it a name. This name will be used to identify this peer when it's connecting to others, so you can pick any name convenient for you.
Once you enter a name, Sync generates a digital certificate for this Sync instance. This certificate is signed by this created identity and will be later used to approve others and be approved of by others. Thus there is no option to just change the identity name. If, for a reason, you want to change it, you need to unlink the current identity, and give a new name to the new identity so that new certificate is generated. With that, all Advanced folders will be removed from this Sync instance, Standard folders will remain in this Sync instance, and all folders will remain in the system (excluding iOS and Windows Phone devices).
Here's how to unlink the wrongly named identity: click "Preferences" -> "Identity" -> "Unlink from identity".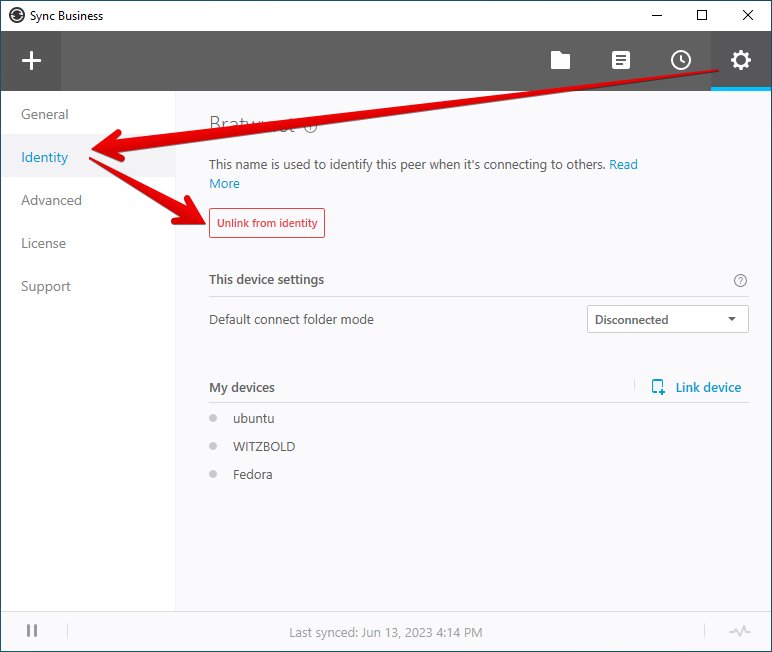 Enter your new name/nickname and click "Create identity". If you have license applied, your will additionally get the option to link this device to another identity.
Note, that this will change name only on this current device. If you have any other devices linked to wrongly named identity, you will need to unlink that there and link to the newly created identity.