Resilio Sync requires a Business license if used for commercial purposes.
Resilio Sync Business license is a subscription type of license. Two billing periods are available - monthly and yearly. For yearly purchase additional discounts are suggested. For non-profit organizations 50% discounts are offered.
Base unit of Business license is a license seat, mentioned as "user" on purchase page, which is basically the same at this point. Only scale of 5 seats is available.
How many seats to purchase?
One license seat can be used for a unique Resilio Sync identity. All devices linked with one identity consume one license seat. The main idea about linked devices is that they share all the folders with each other automatically.
So the number of seats depends on how you're going to organize synchronization and devices. There are two typical use cases to illustrate the idea.
1. There's a team of 7 people in the office. Each has a desktop, a laptop and a few mobile devices. Each of the members can create their own Sync identity on a desktop and link other devices to it. You'll need 7 seats. However, if at the same time either of the members needs a separate identity for a laptop (does not need to have it linked to some other device), then +1 seat will be required for that, so 8 seats will be needed in total.
2. There are 4 computers that store backups and need to sync data with each other. If all are linked with one identity, they will take up 1 license seat. If it's required that each computer has its own identity, you will need 4 seats.
To sum up, number of seats required is the number of unique identities in your Sync mesh. It will be possible to add more seats to license any time later after purchase.
What about Server support? When is it needed?
Resilio Sync Business license needs to have "server" feature included if license is going to be used on a computer with Server OS - any Windows Server family and any Linux OS with non-arm CPU (NAS with non-arm CPU also falls into this category).
Currently, server support feature is available for packages with 20 seats or more.

Server support is just a feature in license, it does not take up a license seat! But once the license is applied to a server, the server takes one seats and described above.
How to use the purchased seats?
After making the purchase, you receive a license key with number of seats, expiration date, renewal date, server support and other information encoded there.
The identity on which the license key file is applied, becomes License Owner, as well as devices linked to this identity. The identities that have a seat shared with them, become License Users.
There can be only one License Owner, so if some other identity has the key applied directly, it becomes the new License Owner: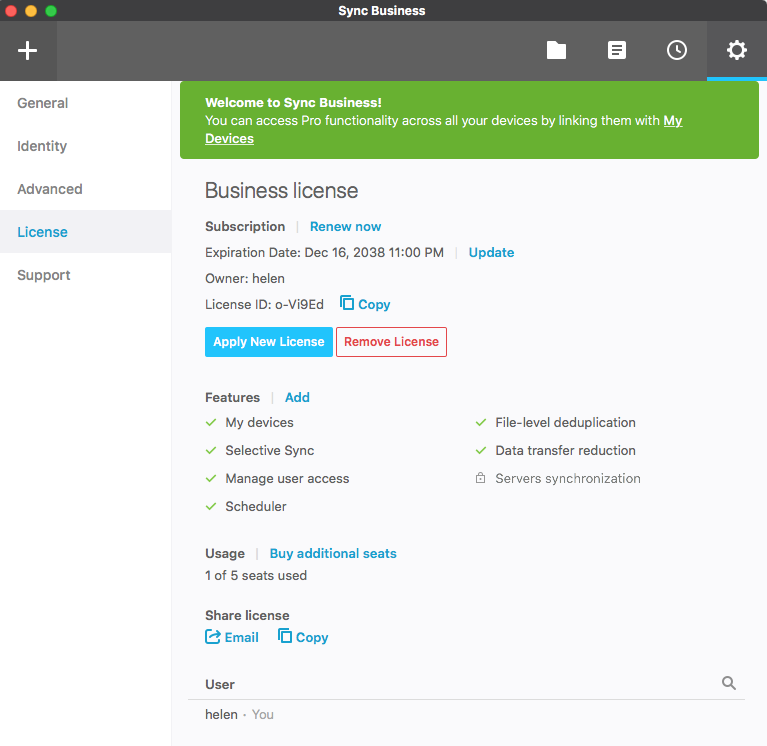 To share a seat, click "Email" or "Copy" and send the link invite. On remote computer apply the link to Sync. License Owner must approve seat usage. License User cannot manage seats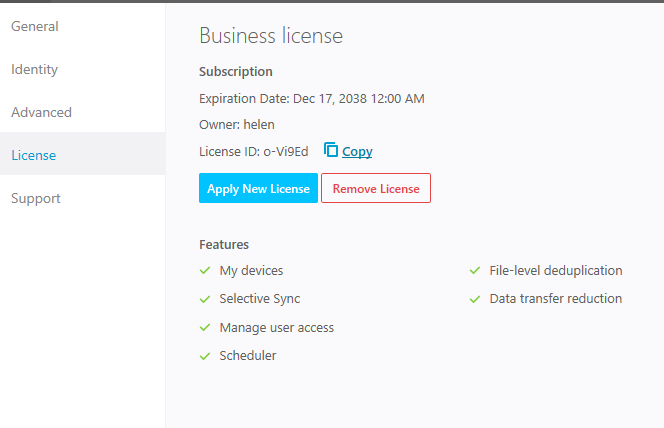 License Owner now sees a new User. Owner can also reclaim a seat.