Sync gives 14-day trial period to try all Pro features, it's available in both Sync Home (for home use, for individuals) and Sync for Business (for commercial use). When these 14 days are up or current license expires, Sync for Business requests applying a valid license. If you want to revert to Sync Home Free after that, completely uninstall and reinstall Sync. Note, that Sync Home can be used only in non-commercial environment.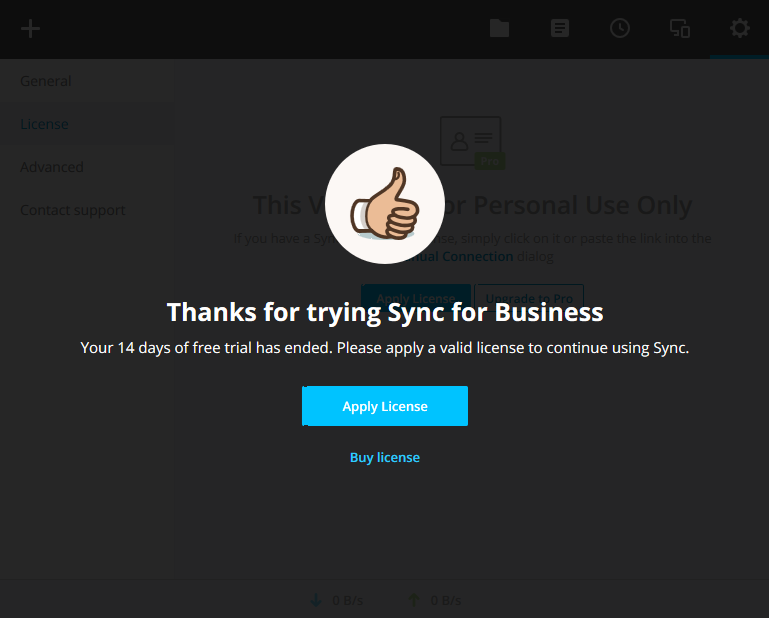 When Trial expire on Sync Home Pro version for individuals, you'll be reverted to Sync Home Free and lose access to the Pro features:

My Devices will be disabled. If you have already linked several devices under one Sync certificate, they will remain linked. However, there will be no more automatic synchronization between them -- adding a folder on one device will no longer add it to all other devices linked to your identity. You will need to share folders manually
Selective Sync: Ability to connect to a folder without synchronizing all of its contents and fetch only specific files from that folder will become unavailable. Devices which have 'Selective Sync' toggled ON will be switched to 'OFF', therefore all synchronization will continue in the Synced mode.
Changing folder permissions: You will no longer have the ability to change permissions on-the-fly (when a folder is already shared). In order to revoke access, you'll need to manually disconnect the folder on the unwanted peer. Any existing permission settings will still apply and you will have the ability to set access permissions when you share a folder.
Advanced folders cannot be added. Only Standard folders can be added to Sync. 
If you upgrade or return to Pro, all Pro features will be reactivated.                 
There will be no changes to your mobile app when your trial period or license expires.
If you've shared license seats with other users, when your license expires, the licenses (seats) you've shared will expire as well, on the same date, meaning that those users won't have access to Pro features either in the manner described above.