Normally, if you hover over any of the folders added to Sync, you should see the Share button. Note, that for Advanced folders only Owners can share it!
In some cases, however, this button may be absent from 
Web UI
. Here are possible causes:
Incompatibility of Sync with your web browser.
Sync is designed to work with most browsers, however, some rare/Linux-specific web browsers may have compatibility issues and, as a result, fail to display the Share button. Try using one of the major browsers such as Chrome, IE or Mozilla and see if it shows all UI elements.

 

Ad blocking software.
Having an ad-blocker may affect Sync WebUI. Try adding Sync WebUI page to the list of exceptions (sites which are allowed to open pop-up windows) or simply disable your ad-blocker.
Note that you can also share your folders by right clicking the space by the folder name and access the Share button form there: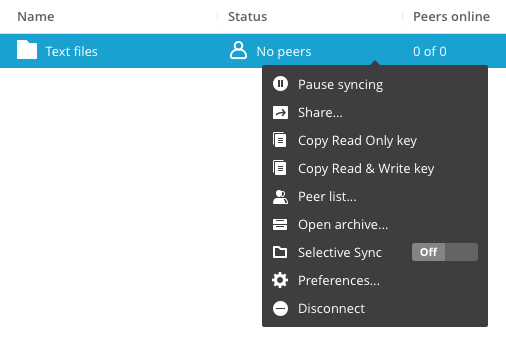 Also note that if you have a Read Only key, your peer can share only RO key further.